Good morning! Today I'm sharing my spread for Week 19. I love the title card this month. Studio Calico never fails to make pretty things!
Here's the left side. I lost a few photos from this week when my phone died, but I managed to get a few from Instagram, and my sister sent me a couple that she had. On the green card I added some washitape and a chipboard piece to tie in the pink a little more.
Here's the right side. I love that Chinese Proverb. I included it in another project, but wanted to include it here as well. I love the grey "you can do this" card, and journaled on it using a white pen! I love how it turned out.
Thanks for coming by to see my spreads this week. I have a bunch of 1/3 kits separated, and I'm not sure yet what I'm doing with them, but if you're interested in any of Becky Higgins older kits (rain, midnight, 5th & Frolic, cinnamon, dear lizzy, maggie holmes, coral, honey, sunshine, azure, olive, kiwi, strawberry or a few WRMK kits) let me know!
-Alexandria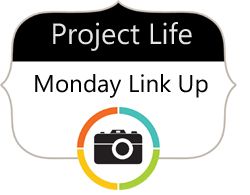 Go share a link to your Project Life spread on the Monday Link Up (
here
) from Facebook, Instagram, or your blog!