I can't believe it's Monday already! Today I'm sharing week 20, and I must admit that this is probably my favourite layout so far this year. There's just so much to this layout that I can't help but love it the most. Don't tell the other layouts. This week was a little busy, and I lost some photos, but Jon took most of the ones from our trip (smart idea on my part) and so I'm glad we didn't lose more than like 2 that I snapped at the zoo.
Here's the left side of my spread. I love love love love love that Big City Lover card from Studio Calico. I wish I had more of them because I LOVE the city (but not enough to live there of course). This page has 2 flip pockets. They're not done the best, but they're done at a level that's acceptable for me, considering what I had to work with. On the 3 card I journaled about how we celebrated our 3 year anniversary by going to the city!
Here's the first flip pocket. I knew I definitely wanted to include tickets from the zoo and the two movies we saw, but I didn't want to include an insert (I wanted to make a mini album from the zoo so left out most of those photos). I used a scrap pocket from a page I'd cut down (I'm the hoarder who saves all those pieces) and turned it into a flip pocket.
Since this pocket is on the back of the page protector (it opens from the other side) I left a half inch at the top to glue it to the pocket. I don't mind that I can see the adhesive through the flap piece. It doesn't take away from the photo. I adhered a journaling card to the back of the tabbed card and added some journaling about the zoo.
The other two flip pockets are these movie tickets. I left extra space on the right and left (respectively) to glue the flip pockets to the edge of the page where the holes are. It makes the adhesive less noticeable and having them hooked on the ring keeps them in place if the adhesive ever stops holding them to the page.
On the other side of the ticket I have some movie review cards I mamde, and the movie poster.
Here's the right side. The black and white "handmade" card was a 4x6, but I cut it in half and it appears in another spread. I added a label over the card to add some journaling.
Thank you for coming by to see my spread for this week! I hope you have a wonderful day!
-Alexandria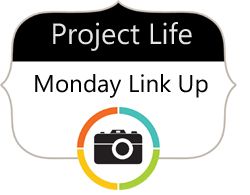 Go share a link to your Project Life spread on the Monday Link Up (
here
) from Facebook, Instagram, or your blog!