Good morning! I still hate Monday's, but at least I can share my Project Life with all of you. I don't live a super exciting, or glamorous life, but it's my life, and I'm having fun documenting it, in this way. I wish I took more photos, so I could make more mini albums, but given that this year I want to keep everything in one album, I suppose I'll have a few extra pictures that don't make it into each spread, and I can make mini albums with those.
Here's my spread for Week 50. I used the Blush Edi

t

ion for this spread. I'm trying
to use up some of my stash, and use older kits that I have just sitting there. I'm considering taking 1/3 of each kit and setting it aside to donate to the Seniors Lodge. They've been looking for different crafts to make with the seniors, and what's better than helping them to document the wonderful lives they've lived. I'm sure it's something that their families would like. I'll look into getting something started, and if anyone wants to donate any extra cards they have laying around, I'll be sure to get some more information to share.
Here's the left side. I missed my Niece's birthday at the end of last week because I had to work, so I made up for it by going to see her Christmas play at church. She was so excited that I came. I pulled out my two Christmas cups, and made some tea in one. It took me three tries that day to get a hot cup of tea. My niece and I made a lego Christmas tree, and she was so excited about it.
Here's the right side. We added our Christmas tree to our lego train. The lodge had Birthday Bingo for the families of the seniors with Birthday's in December (they do this once every month). We had some unseasonably warm weather, my niece and my cat cuddled on the couch, and a very rare selfie.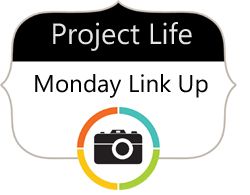 This week, we have another Project Life Monday Link Up. Just head over to Karen's blog (
here
), check out her pages and add your link to the bottom of the post. Don't forget to check out some of the other wonderful spreads being shared, and spread some love.
Thanks for coming to check out my pages!
Have a great day!
-Alexandria