Good morning! Today I'm sharing Week 49 of my Project Life. I had planned to share this last week, but being that I was sick, I pushed it to this week instead. I promise that I'll eventually get finished sharing my pages from last year, and start on this year. I think I'm going to stick with weekly spreads, running Monday - Sunday so I can keep the weekends together. I just haven't taken many photos for week 1, or 2 yet. I'm not even sure what week we're currently on.
This week, I used a variety of things, mostly from my stash, but a few that I bought specifically to make a few Christmas-y pages (though most of them aren't over the top Christmas-y). To introduce the month of December, I made this two page spread.
On the left side, I used a cutfile from Wilna over at
iheartstudio.ca
. This file was included in her Heartfelt Christmas Workshop, but can be purchased in her shop. I made it big enough to fit inside of the wreath that was already on the patterned paper, and cut it out of some red cardstock. I glued it to the paper, and then cut the paper to fit into the individual pockets. I love the way it turned out.
On the right side, I trimmed a piece of 6x6 paper from the My Minds Eye Sleigh Bells paper pad. I cut some more pattern paper for the top right and bottom left pockets, and added a chipboard frame to the top right, and a little tag with important December dates to the bottom left. I added a sequin pocket with a resin present from the Freckled Fawn Very Merry Embellishment kit. The sequins are from my stash. I cut some patterned paper and added some washitape to the card next to the tree. I adhered the tree cutfile from
iheartstudio.ca
to some red paper.
Here's a close up of my washitape tree. Originally, I was going to use this as my first Washitape Wednesday project, but I'm still not sure if I have enough washitape projects, to make it a regular feature. The star clip at the top is from Freckled Fawn.
Here's my actual Week 49 Spread. I used the gold foil kit from We R Memory Keepers, and a few cards from the Midnight Edition.
Here's the left side. You can see the back of the sequin pocket. I used the lucky card as my title card, and added journaling to a couple of photos because I had minimal space for journaling cards.
Here's the right side. The top photos are the two attempts we made at dying my sisters hair. I don't have an after picture, so I just used the two of the process. A few things we learned that day were to never believe the internet, Kool Aid doesn't change the color of your hair, I'm still terrible at getting even coats of dye (in this case bleach & dye) on her hair, and box dye doesn't always generate the color they advertise. It was a learning experience, but even after three years of dying her hair for her, I suck terribly at it. So grateful I'm not a hairdresser, or I'd actually have to be good at it.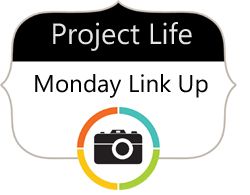 This week, I'm taking part in a Project Life link up hosted by the lovely Karen Drummond over at Day to Day. (Click the above image to go to her blog). My goal is to add my link to her blog every week, and I might miss some weeks, but I'm going to try my hardest because Project Life is always better when you share it with like-minded people!
Thanks for coming by to see my spread this week. I hope that you'll pop over to Karen's blog and add your link to the party! I'd love to see what you've made!
-Alexandria