Good morning! I hope the weather wherever you are, isn't too horrible. It's been really cold here the last few days. Perfect weather for curling up on the couch with hot chocolate and a movie or book. Unfortunately I had to work the weekend, and it was chilly. On the bright side I'm sharing week 3 today, and there's another link up happening with Karen.
Here's my spread. I used cards from the Midnight Edition, and the Be you tiful card is from Studio Calico.
This week I made a bunch of craft projects, finished a book and documented my issue with choosing my next book. We also celebrated Jon's mom's birthday with a beautiful cake.
Here's the right side. I included photos of my book wreath (which I still need to hang), a selfie I took, a scrapbook page I made for work, and the cover of my Love Mini Album. My weeks are pretty boring and simple lately. We spend most of our time working, and when we're not working, we've been watching Grey's Anatomy, or I've been crafting, and Jon's been painting/assembling Warhammer models.
Thanks for coming by to see my spread for this week. Please check out the link party over at
Karen's blog
. Share your link, and check out everyone else's spreads.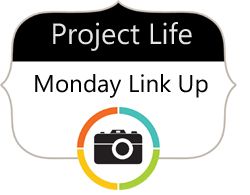 Have a great week! I hope to see you all next week at the Monday Link Up!
-Alexandria