Good morning! Today I'm sharing Week 52. Because I got sick just after Christmas, I combined the last week and a half into one week. I wanted to keep the year together, and didn't have many photos from the end of the year, so I included a few extra Christmas photos, and made it a double two page spread to finish off the year.
Here's the first spread. This covered our work Christmas lunch, and Christmas with my parents on Christmas Eve. I used cards from the Christmas Theme Pack by Becky Higgins.
Here's the left side. I decided to stick to Green for this spread, simply because it felt more cohesive to me. A few photos from our work Christmas lunch, and the Elvis photo was a gag birthday gift for one of my favourite co-workers. She hates Elvis, but we always tease her about the Elvis plate collection (she doesn't have one). She was an amazing sport, and said she'd hang this up, because Jon and I gave it to her. She laughed so hard when she saw it. It was possibly the best gift I ever gave someone. We laughed about it, and she loved it. I promised that next year we'd buy her the Elvis collectable plates.
Here's a few pictures from Christmas at my parents house. Jon made the turkey and snapped a photo of it. It was delicious. after most of the family left, my mom, my sister and I had some wine, and I made sure to get all the baking in the photo. I tried out a new recipe, (I'll share it later), and there were so many sweets that we definitely never made a dent in them. There was only 9 of us, and enough baking for a small army.
Here's the second two page spread, Christmas with Jon's family, a few little things I didn't include earlier in the month. I used the red cards from the Christmas theme pack from Becky Higgins.
The only picture I have from Christmas with Jon's family is the turkey. It was amazing! The food was great, and we had a great time with his nephews, playing in the giant cardboard house they brought to entertain them with. I included a photo of the tree topper, and the ornament his parents gave us (a tradition of theirs is a new ornament every year). We got together again at my parents house to exchange gifts with my brother and watch the kids open their gifts (long story about why they didn't come to the original Christmas).
I made sure to include the window stickers Tori and I put up at the start of the month, but I forgot to include. I included the ornaments his sister and her husband gave us as well. The bottom left photo is of a frame I'm working on with photos of my siblings and I. I found recent photos of them, and collaged them with their "kids" and then wrote the date they became part of the family (more about that later). The bottom right is a 4x6 card with journaling about our New Year's Eve.
I started this album with the First Page cards from the Dear Lizzy Neapolitan core kit, and I'm ending it with the last page cards. I might embellish a bit, or add something to a couple of the cards to make it a little less plain (perhaps a photo or something). That's the end of 2014.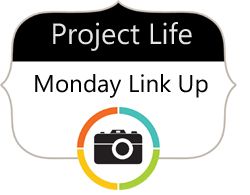 Once again don't forget to add your link to the Link Up over at Day to Day. Just click the photo to be taken to Karen's blog and add your link! Browse the other things and be inspired, share your link and inspire!
Have a great day!
-Alexandria